Editor
Will Perkins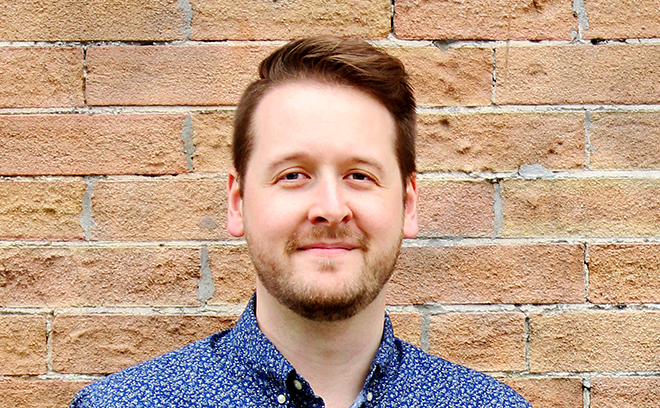 Editor
Will Perkins is a freelance film and game journalist and public relations professional based in Toronto, Ontario.
Will studied Political Science and Cinema Studies at the University of Toronto and has contributed to such outlets as Yahoo Movies, DorkShelf.com, Design Bureau, Kill Screen, Maxim, and Empire Movies. He has interviewed the likes of Quentin Tarantino, Peter Jackson, Guillermo del Toro, Scarlett Johansson, Alfonso Cuaron, Olivier Assayas, Miss Piggy, and others.
He is also editor-in-chief of genre culture site Dork Shelf. He has been an editor at Art of the Title since 2011.
Email Will
Speaking Engagements
September 1, 2017: Starting Your Geeky Career Online
FAN EXPO Canada – Toronto, Canada

June 24, 2017: Thinking Made Visual — Saul Bass as Filmmaker and Title Designer Film screening presentation and Q&A discussion Smithsonian American Art Museum — Washington, D.C.
December 12, 2016: Talk at OCAD University Alumni Event
TIFF Bell Lightbox — Toronto, Canada
October 29, 2016: Brief Festival
Conde Duque — Madrid, Spain
April 17-19, 2016: FITC
Toronto, Ontario

February 26, 2016: In Conversation With… Dan Perri
Village Workspaces — Los Angeles, California
February 25, 2016: The Good, The Bad, and The Oscars (with AIGA LA)
The Downtown Independent — Los Angeles, California
February 23, 2016: History of Motion Graphics
California Institute of the Arts — Valencia, California
October 10, 2015: AIGA Design Conference
Hyatt Regency — New Orleans, Louisiana

June 3, 2015: Motion Design Education Summit
O'Connell House — Dublin, Ireland
February 14, 2015: TIFF Next Wave Festival
TIFF Bell Lightbox — Toronto, Ontario
March 9, 2014: SXSW Title Design Awards
Vimeo Theater — Austin, Texas
November 3, 2013: Gamercamp Interactive & Gaming Conference
Ocho Hotel — Toronto, Ontario


For more information, see the Talks & Events page